Whilst typically held in late October / early November, we wanted to include a festival of lights that is celebrated by Hindus, Jains, Sikhs and Buddhists around the world. Ram Aithal, faith guide at the Shri Venkateswara (Balaji) Temple in the West Midlands, highlights the five important elements of Diwali and explores their deep meaning. Read on to find out more about this wonderful festival.
THE ESSENCE OF DIWALI OR DEEPAVALI
Image

(Note: Volumes have been written about Diwali describing the festival, its history, practices, its religious background, and its social aspects. The following brief passage takes a sideways peek at Diwali from the perspective of an artist to admire its hidden beauty.)
Diwali, a festival of lights, is one of the major festivals celebrated by Hindus, Sikhs, Jains and Buddhists around the world. Traditionally, the festival is celebrated during late October and early November. This is the time of the year when the gloom of cold and dark winter begins. The festival is celebrated in many ways in various regions across the world. Several narratives describe the dastardly actions of dark and evil forces and show how the goodness of the human spirit fought against them and triumphed.
In some communities, this festival is celebrated over five days, each day to represent one aspect of the festival. In some other traditions, it is a one-day event. The festival begins with cleaning and decorating the home followed by wearing new clothes and gold jewellery, lighting up the home and the garden, praying for good fortune, pledging support and protection to close family members, and giving gifts to relatives and friends. People enjoy the spirit of the social aspect of the celebrations with feasting, music, dance, drama, and art.
It is an occasion for the positive revival of one's outlook on life. To understand and appreciate fully the various aspects of the festival, one needs to remember the five essential aspects of the festival.
These are:
1. Thorough cleaning of everything around you.
2. Welcome home the good fortune by decorating the way into the home with colourful Rangoli – intricately patterned artwork.
Image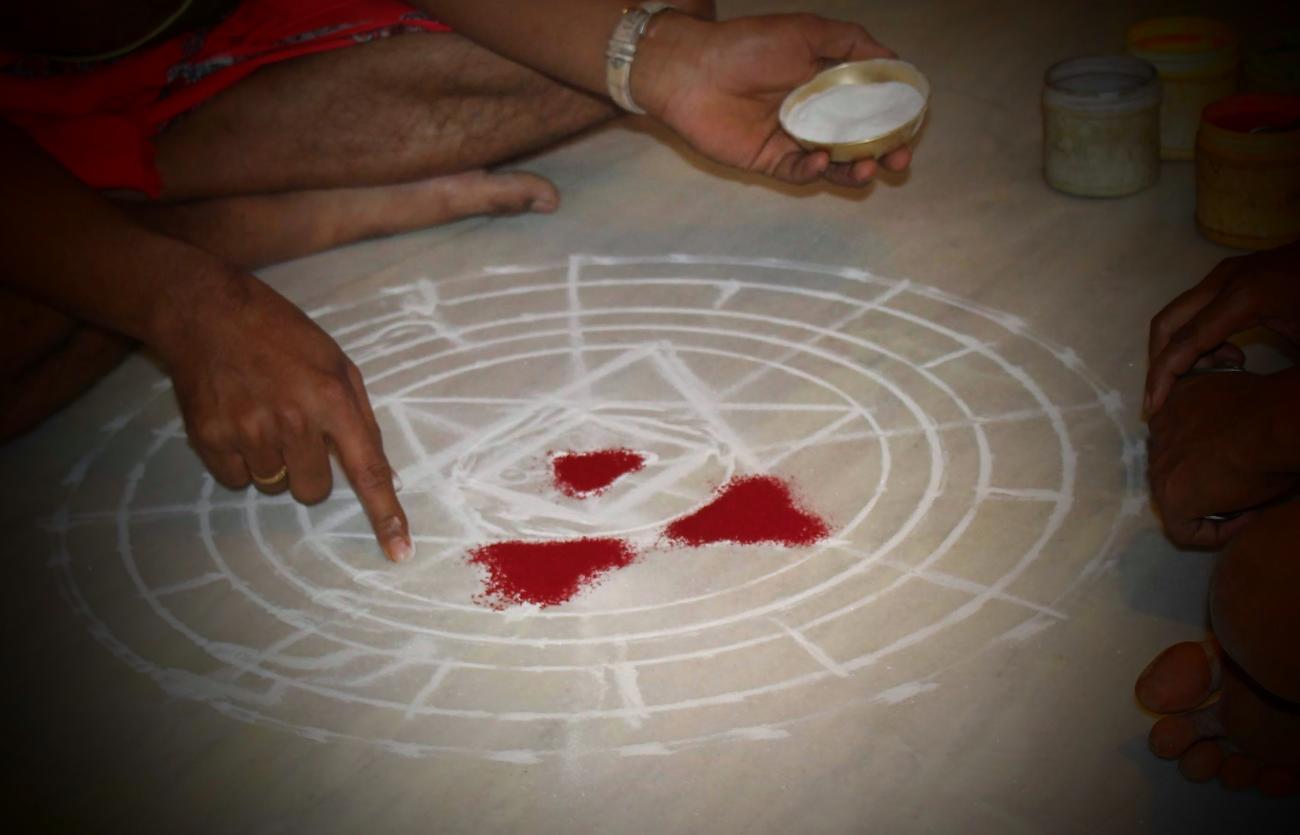 Outline of Rangoli ready to be filled with colours. Nowadays stencils are often used to create the outline. 
Photo courtesy of Ram Aithal.
Image
Completed Rangoli.
Photo courtesy of Ram Aithal.
Image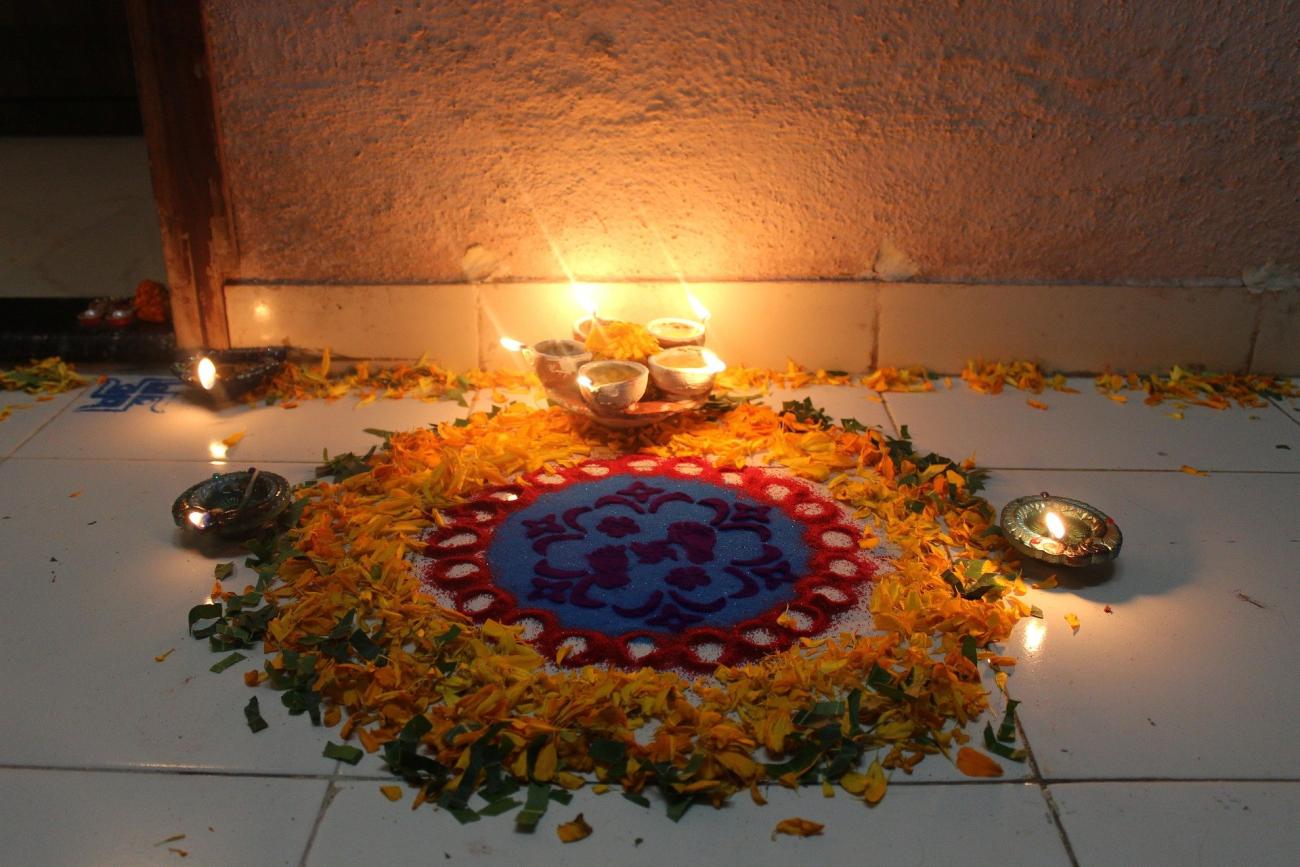 Rangolis are now decorated with artificial powders and coloured sands. They are displayed on the floor, near home entrances to welcome guests and to invite good luck to all in the home.
Image by ParagKini from Pixabay
3. Gracefully receiving the positive forces by lighting up 'diyas' (oil lamps) or candles.
Image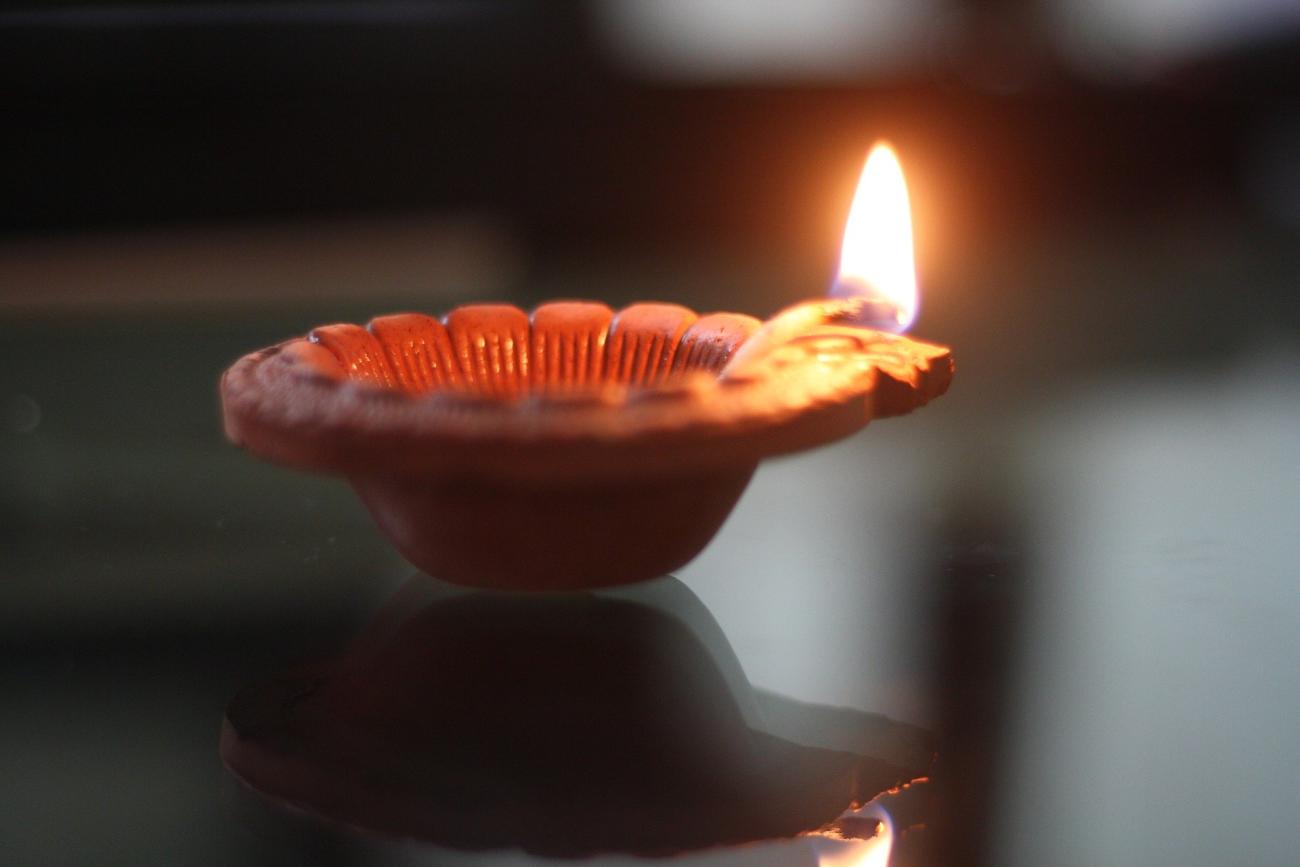 A traditional diya.
Image by vinod shakya from Pixabay
4. Reviving and reasserting one's commitment to others.
5. Sharing your happiness with others by feasting and by giving gifts.
Traditionally, these five aspects add to the total grandeur of the festival by pleasing and stimulating one's five senses namely, sight, sound, smell, taste, and touch. Art is an essential part of all these aspects. The gifts include new clothes and sweets - a mixture of colour, texture, taste, shape, and smell – all wrapped in an attractive package.
Image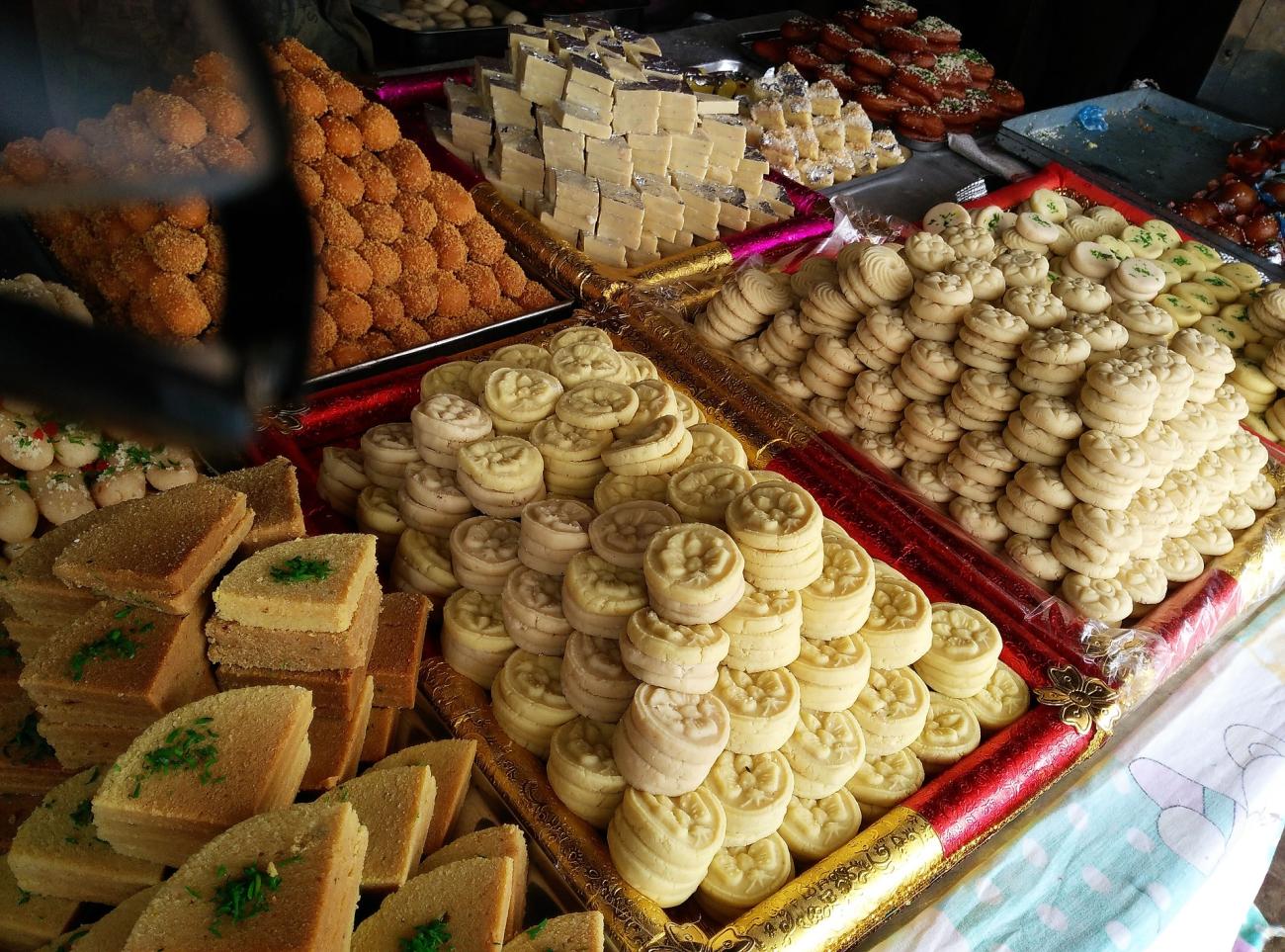 Traditional Indian Sweets are given on Diwali.
Image by saumendra from Pixabay
They also carry a deeper meaning that stimulates one's mind and spirit.
'Cleaning' includes the cleaning of one's body and mind by sweeping away the lurking cobwebs in the dark corners of our mind such as Anger, Arrogance, Envy, Greed, and Lust.
'Decorating' opens the door to one's creative ability in Arts and Crafts.
'Lighting up' means casting away the darkness of ignorance with the light of knowledge. Knowledge is a positive way to face the hardship in life and look upon its bright side.
Reviving one's commitment not only to one's kith and kin but also to the whole community and the environment.
Presenting gifts means the sharing of one's possessions and happiness with others with love and compassion. Happiness is in giving rather than in possessing.
In short, Diwali comes as an annual gift packed with five aspects to stimulate one's physical senses and revive the human spirit to face and triumph over the darker side of life.
Diwali Greetings to all.
Ram Aithal, November 2021
Ram Aithal is a faith guide at the Shri Venkateswara (Balaji) Temple in the West Midlands. Supported by a generous grant from Westhill Endowment Trust,The Arts Society Birmingham has collaborated with six different places of worship, Birmingham Faith Leaders and other organisations to produce resources designed to enhance a school visit, or to support a virtual visit, to a place of worship for children 8 to 13 years. To find out more about this project please click here.
If you want to learn more about the art inspired by Diwali click here.
---
Our Societies support hundreds of local arts and heritage projects. Each day we highlight a grant given in 2021. 
The Arts Society Harrow is supporting Headstone Manor Museum in Harrow to catalogue its fine art collection and deliver art workshops inspired by the collections. 
All donations from the Artvent Calendar will go towards The Arts Society's grant giving fund, which awards grants to help preserve our artistic heritage, support the skills of artists and makers, and improve access to the arts for all.
Please click here to support projects like this one by making a Donation.